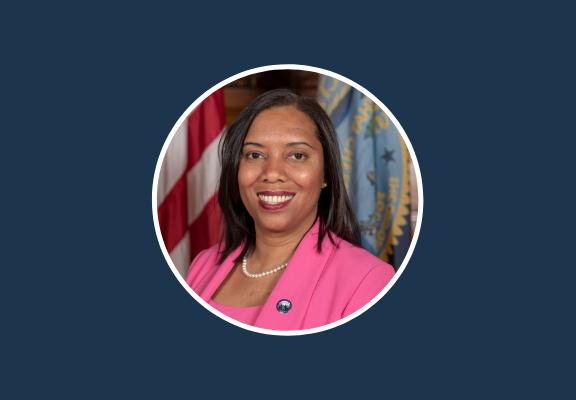 Providence City Councilwoman Sabina Matos (Ward 15), was honored on Thursday, May 17 at The Woonasquatucket River Watershed Council's (WRWC) annual Yellow Perch Cocktail Party with the first annual Fred Lippitt Award.
"Sabina has been a great partner and visionary for Olneyville just like Fred Lippitt right from the start," stated Den DeMarinis, Jr., Director of Development at Woonasquatucket River Watershed Council.  "Her belief in the WRWC has made the organization much stronger and more effective. She supported and helped to fund many of WRWC's improvement projects, and we thank her for her belief in them. We also thank her for her trust that together we could make these wonderful things happen for Olneyville and folks on the river, her commitment to opening up the river, improving green spaces, and being a champion for improving quality of life and bringing Fred's vision to fruition."
Sabina Matos, Providence Council President Pro Tempore stated, "like Fred, I too understand the value of our community's natural resources. And like many other families in Olnyeville and beyond, we have spent many hours walking, biking, and taking time to reconnect. In this busy, multi-media world the WRWC provides a respite from the barrage of the daily world, and for that I'm thankful. Fred's vision was to transform the watershed to provide recreation opportunities to the community of Olneyville, to restore the river's environment, to stimulate the economic reinvestment and promote this amazing neighborhood that so many of us call home. His drive and tenacity to make a better Olneyville and a better Providence inspires me every day to do the same. And I thank the WRWC for recognizing the commitment that I have for our community, and I look forward to continuing advocating for Olneyville and its many fabulous resources for the years to come."
The mission of the Woonasquatucket River Watershed Council is to encourage, support and promote the restoration and preservation of the Woonasquatucket River Watershed as an environmental, recreational, cultural, and economic asset of the State of Rhode Island. To learn more about The Woonasquatucket River Watershed Council, visit www.wrwc.org.