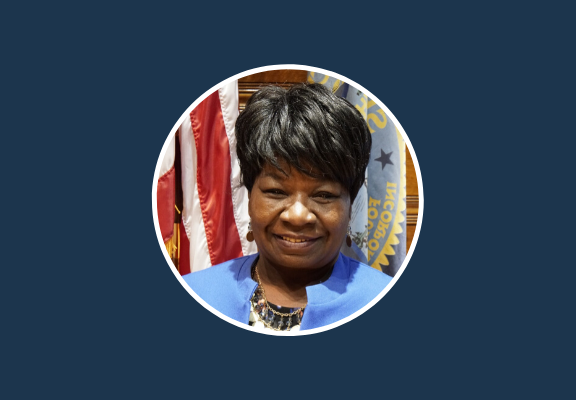 Fifteen students from Central High School surprised City Hall visitors and staff on Thursday with a flash mob performance during the Providence City Council's Black History Month celebration. The students interrupted the speaking agenda to perform "We Shall Overcome," which was followed by a spoken word performance and African dance. The flash mob was followed by storytelling performances from Valerie Tutson and Joe Wilson, Jr.
Behind-the-scenes plans for the flash mob began when Council President Luis Aponte first met the high school students during a holiday performance at Latino Public Radio in December. Impressed with the students' talent, Aponte asked Central High School music teacher Joyce Bernau-Enriquez to help the students arrange a flash mob performance at City Hall. According to Bernau-Enriquez, the students spent upwards of 20 hours after school in preparation for the event. The students choreographed their own African dance routine and adopted a poem written by a fellow student for the spoken word performance.
The stunning performance kicked off the Council's second annual Black History Month celebration, which features an archives exhibit that chronicles the black suffrage movement in Providence from 1785-1885. At the students' request, dozens of elected officials, staff members, nd visitors joined them in singing a resounding chorus of "We Shall Overcome" in unison.
Storyteller Valerie Tutson also performed as Elleanor Eldridge (1785-1865), who left home at age ten for employment and later became a successful entrepreneur and Providence landlord. Joe Wilson Jr. of Trinity Repertory Company was the final act, performing as Alexander Crummell (1819-1898), an influential scholar, college professor, preacher, and education advocate for people of color.
"We are quite honored to have so much history in our archives department, right here in City Hall," said Councilwoman Mary Kay Harris, who urged attendees to return to the exhibit with friends and family. She is also working with the Providence City Archives Department to develop a program for groups to come to City Hall and learn about the black suffrage movement in Providence. "Education is empowerment," said Harris. "I want to bring my constituents to City Hall and share this history with them."
The archives exhibit will be displayed on the third floor of City Hall through the end of March. To schedule a group tour, interested parties should contact Deputy Archivist Caleb Horton at (401) 680-5315.