The first budget to be passed under the leadership of Council President John J. Igliozzi Esq.
The Providence City Council passed the Fiscal Year (FY) 2021 Budget of $510 million at the April 15 City Council meeting. This is the first City budget to be passed under the leadership of Council President John J. Igliozzi Esq. (Ward 7). The budget will be signed into effect by Mayor Jorge O. Elorza.
"After serving as the Chairman of the Committee on Finance for fourteen years, I am proud to be joining my Council colleagues in passing the first budget in my tenure as City Council President, which reflects the current and future financial needs and goals of the City of Providence. We have listened to residents and stakeholders, and we have built a budget which makes room for modern initiatives such as the 'Go Team' Diversionary Program, while also responsibly addressing long term issues such as the pension crisis," stated Council President John J. Igliozzi Esq. (Ward 7).
The Fiscal Year 2021 Budget includes $130 million in funding for the Providence Public School Department, as proposed by Mayor Elorza. Additionally, the budget creates a grant funded department to support the American Recovery Act COVID-19 Stimulus package of $130 million and allocates funding to Family Services of Rhode Island for a new "Go Team" Diversionary Program. There will be no City tax increases and commercial tax rates will remain the same.
"Now more than ever, it is crucial that our tax payer dollars be spent wisely. This has been a difficult year, which has exposed many new challenges for Providence residents and our City as a whole. I would like to thank Council President Igliozzi, my colleagues, the City Council finance team and the administration's finance team who have all worked together to create a fiscal strategy that will keep our City moving forward and will keep money in the pockets of the hard-working men and women who call Providence home," added Finance Committee Vice-Chairwoman Jo-Ann Ryan (Ward 5).
In accordance with the requests of Mayor Jorge Elorza, the FY 2021 budget also funds the contractual increase of $2.78 million to Providence Police Department including a 4.5% wage increase. The budget also provides a 2% wage increase for all City union and non-union employees and a 2.75% wage increase for the Providence Fire Department. The budget also ensures that the City will make 100% of its obligated pension payment and increase the City's rainy day fund by $100,000 to $15 million.
"The obstacles that our City and our nation have faced in the past year have left many families, businesses and municipalities in a place of financial uncertainty. We have worked hard to create a budget that will ensure sustainable economic growth in our City for residents, business owners and City operations. I look forward to continuing to work with my colleagues in government to keep propelling our City forward," added Council President Igliozzi.
To view all budget documents, click here: https://bit.ly/PVD2021-Budget.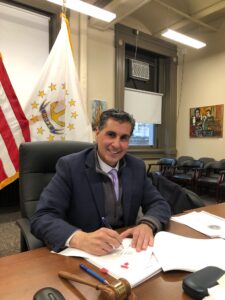 Council President Igliozzi signs Fiscal Year 2021 Budget