National Lung Cancer Awareness Month Conversation
November 23, 2020 @ 7:00 pm

-

8:00 pm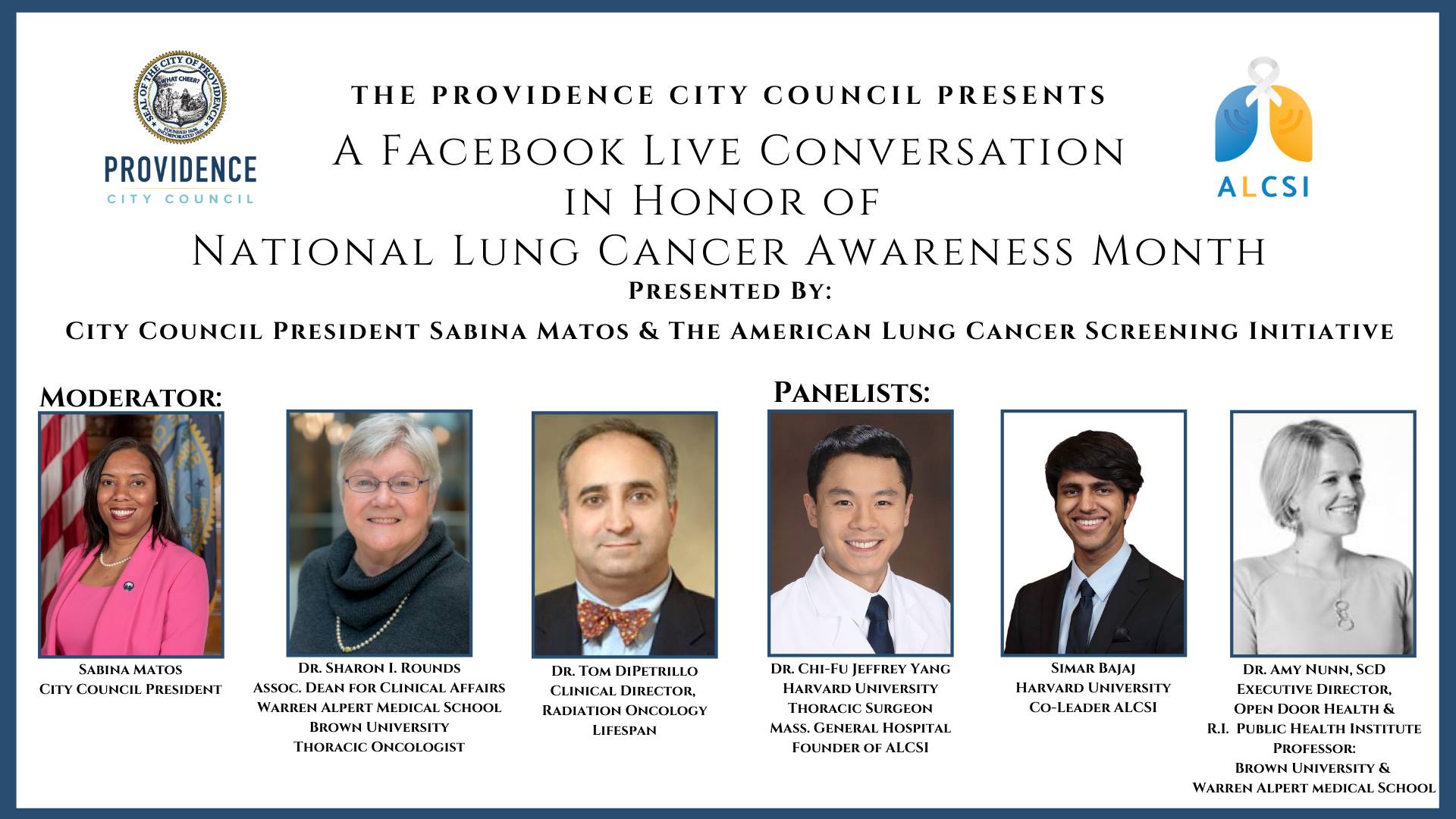 Please join City Council President Sabina Matos and Dr. Chi-Fu Jeffrey Yang, the founder of the American Lung Cancer Screening Initiative, for a Facebook Live community conversation in honor of National Lung Cancer Awareness Month.
We will be joined by Dr. Sharon I. Rounds, Dr. Tom DiPetrillo, Simar Bajaj, and Dr. Amy Nunn to hold a community conversation to discuss the barriers and issues surrounding screening and treatment for lung cancer.
If you have questions, please put them in the comments and we will address them in the Facebook Live conversation.
About our Panel:
Moderator:
Sabina Matos is the President of the Providence City Council. President Matos was first elected to the Providence City Council in 2010. She represents Ward 15, which includes the neighborhoods of Olneyville, as well as parts of Silver Lake and Valley. In 2015 she became the first Latina elected as Council President Pro Tempore in Providence's history. In January of 2019, she was elected as the first Latina City Council President.
Panelists:
Dr. Chi-Fu Jeffrey Yang is a thoracic surgeon at Massachusetts General Hospital and a member of the faculty at Harvard Medical School. He received his medical degree at Harvard Medical School after completing a Fulbright Fellowship and a Howard Hughes Medical Research Fellowship. He completed his general surgery residency at Duke University Medical Center and cardiothoracic surgery fellowship at Stanford Hospital. Dr. Yang has received numerous awards, including recognition for exceptional accomplishment in both clinical care of patients and in the teaching of medical students. He has been the lead investigator on several high impact studies of lung cancer published in the Journal of Clinical Oncology, Annals of Surgery, and Chest. He has written over 80 publications, including over 50 as first- or co-first author. Dr. Yang is a member of the editorial board of the Journal of Thoracic and Cardiovascular Surgery. He also focuses on raising awareness of lung cancer screening through the American Lung Cancer Screening Initiative, a 501(c)(3) non-profit he co-founded.
Dr. Sharon Irene Smith Rounds MD is Professor of Medicine and of Pathology and Laboratory Medicine at Brown Medical School and staff pulmonary/critical care physician at the Providence VA Medical Center. A native of Maine, Dr. Rounds is a graduate of Wellesley College and of Tufts University School of Medicine. She trained in internal medicine at the University of California-San Francisco where she was a Chief Medical Resident at San Francisco General Hospital. Dr. Rounds did a Pulmonary/Critical Care fellowship at the University of Colorado where she was a research fellow in the Cardiovascular-Pulmonary Research Laboratory. She subsequently returned to New England where she was an Assistant, then Associate, Professor of Medicine in the Pulmonary Section at Boston University School of Medicine. Dr. Rounds was appointed Associate Professor of Medicine at Brown Medical School in 1987 and Professor of Medicine in 1994. She was Associate Dean of Medicine (Faculty Affairs) at Brown Medical School from 2001-2006. She was Chief of Pulmonary/Critical Care at the Providence VAMC from 1987-2010 and Chief of the Medical Service at the Providence VA Medical Center from 2006-2015. She is now Associate Dean for Clinical Affairs at the Warren Alpert Medical School of Brown University.
Thomas DiPetrillo, MD, is the clinical director of radiation oncology at Rhode Island and The Miriam hospitals. He is a leading authority on a variety of radiation treatments for cancer, including intensity modulated radiation therapy (IMRT) and high dose rate (HDR) brachytherapy. DiPetrillo is a pioneer in the use of IMRT, a noninvasive procedure that allows physicians to pinpoint the delivery of radiation therapy, resulting in better tumor control with less toxicity. He is also an expert in the use of HDR brachytherapy, a treatment that involves the use of a robotic arm to deliver a radioactive "seed" to a tumor.
Simar Bajaj is a first-year at Harvard College, concentrating in the History of Science with a secondary in Global Health & Health Policy. Simar is dedicated to the cause of medical education, founding the Doctor in Progress website and That Medic Podcast to spread health literacy among his communities. With an additional interest in health policy, Simar serves as an editor for the Harvard Health Policy Review and a member of the Institute of Politics Health Policy team. A co-leader of the American Lung Cancer Screening Initiative, Simar has worked with the Congressional Lung Cancer Caucus and Senate Committee on Health, Education, Labor, and Pensions to introduce lung cancer legislation into Congress. Given that policy and research go hand-in-hand, Simar also conducts cardiothoracic surgery research with Stanford University and Massachusetts General Hospital.
Dr. Amy Nunn is a Professor of Behavioral and Social Sciences at the Brown University School of Public Health. She holds a secondary appointment in the Division of Infectious Diseases at Brown University Medical School. She is also the Executive Director of both Open Door Health in Providence and the Rhode Island Public Health Institute (RIPHI). Dr. Nunn conducts applied research on how to reduce racial and ethnic disparities in HIV infection, treatment, and care. With colleagues, she oversees two pre-exposure prophylaxis (PrEP) implementation science programs in Providence, Rhode Island, and Jackson, Mississippi. She also conducts HIV and Hepatitis C (HCV) prevention research about how to best link people living with HCV and HIV to medical care.